Application of PEGylation in Recombinant Protein Drugs
Time:2023-11-17 Hits:113
Seebio provides a wide variety of PEGs from phospholipid PEGs to fluorescent PEGs with a complete product portfolio. It also has the capability for contract development and manufacturing (CDMO/CRO) of recombinant protein drug intermediates.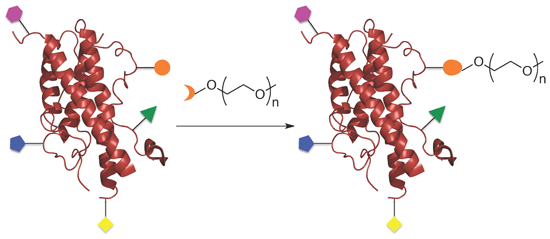 PEG Modification of Proteins[1]
Recombinant proteins are obtained using recombinant DNA or RNA technology to connect gene fragments that can be translated into the desired protein to recombinant vectors. They are the core products in biologics and have significantly higher safety compared to small molecule drugs. Although the production conditions are harsh, the administration procedures are complex, and the prices are expensive, they have irreplaceable therapeutic effects on certain diseases and thus have relatively high approval rates. At the same time, the clinical trial period of recombinant protein drugs is shorter than that of small molecule drugs, with relatively extended patent protection, which gives pharmaceutical companies more exclusive profit time. These features have become an important motivator for the R&D of recombinant protein drugs.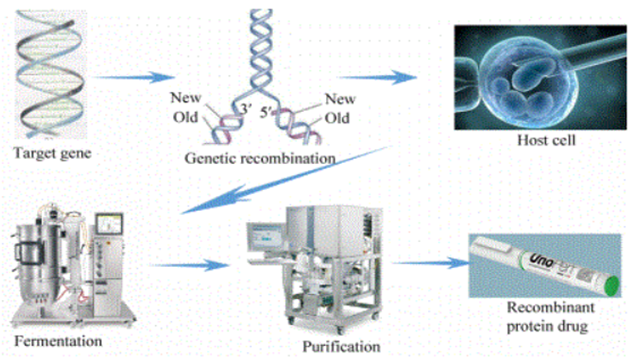 Production Process of Recombinant Protein Drugs[1]
Using chemical modification and genetic engineering technologies to transform or modify recombinant protein drugs to address issues like short half-life in blood, single administration route, immunogenicity and side effects, thereby enhancing drug activity and improving efficacy, is one of the focuses in recombinant protein drug research. Long-acting protein biologics technology is also a core technology occupied by many large international companies.
Polyethylene glycol (PEG), due to its low immunogenicity, good water solubility and biocompatibility, is the most widely used polymer in biomedicine. Its "stealth" effect is the "gold standard" of biomaterials. The main PEG modification methods for protein drugs are amino modification (including N-terminal amino acylation modification, lysine side chain amino acylation modification, N-terminal amino alkylation modification), carboxyl modification, thiol modification, etc. Currently, research on PEG-modified protein drugs is mainly focused on adenosine deaminase, asparaginase, interferon, granulocyte colony stimulating factor, interleukin, etc.
CAS# N/A
TZ-Ste-SO2-nBu-AEEA-Glu(OH)-
Glu(OH)-AEEA-Lys(OH)-C

CAS# 1188328-37-1
OtBu-Ara-Glu(AEEA-AEEA-OH)-OtBu

CAS# N/A
HO-Ste-CYH-Glu(OH)-Glu(OH)-AEEEEA-Mal
After PEG covalent modification, the half-life of protein drugs is prolonged, immunogenicity is reduced, while maximally retaining its bioactivity, thus improving efficacy:

Molecular radius is increased, renal clearance rate is decreased.

PEG forms a shielding and steric hindrance effect on the protein surface, reducing the enzymatic degradation rate and increasing stability and half-life.

The shielding and steric hindrance effects can also mask antigenic sites on the protein surface, reducing the immunogenicity of the protein.

Increases the solubility of the drug in body fluids.

The chemical bond with the drug hydrolyzes over time in vivo, slowly releasing the drug[2].
[2]
。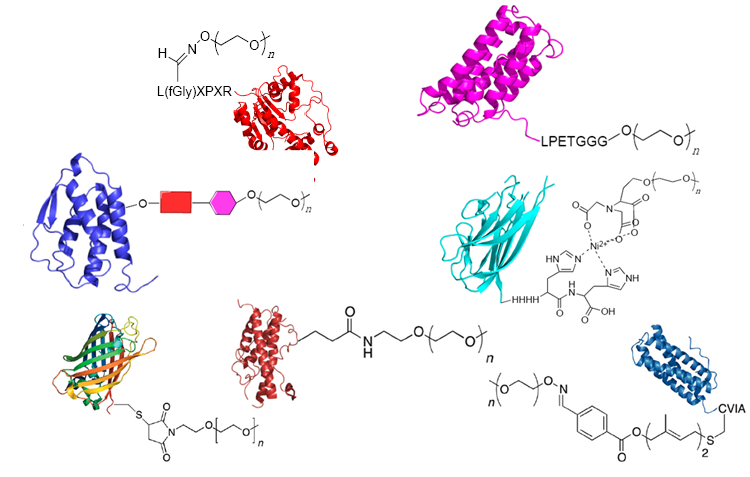 Various types of PEGylated proteins[3]
Currently, R&D giants in recombinant protein drugs (Amgen, Biogen IDEC, Johnson & Johnson, Eli Lily, Novo Nordisk, Roche) are almost all from Europe and America[4], accounting for about 80% of the global market share. The sales of all European and American companies account for as high as 97% of the sales of global biotechnology companies. Since the approval of the first PEGylated protein drug, Adagen (PEG-ADA) for treatment of severe combined immunodeficiency syndrome by FDA in 1990, many other drugs have also been approved successively.
PEGs-modified protein approved FDA. Site-specific PEGylated proteins given in bold[3]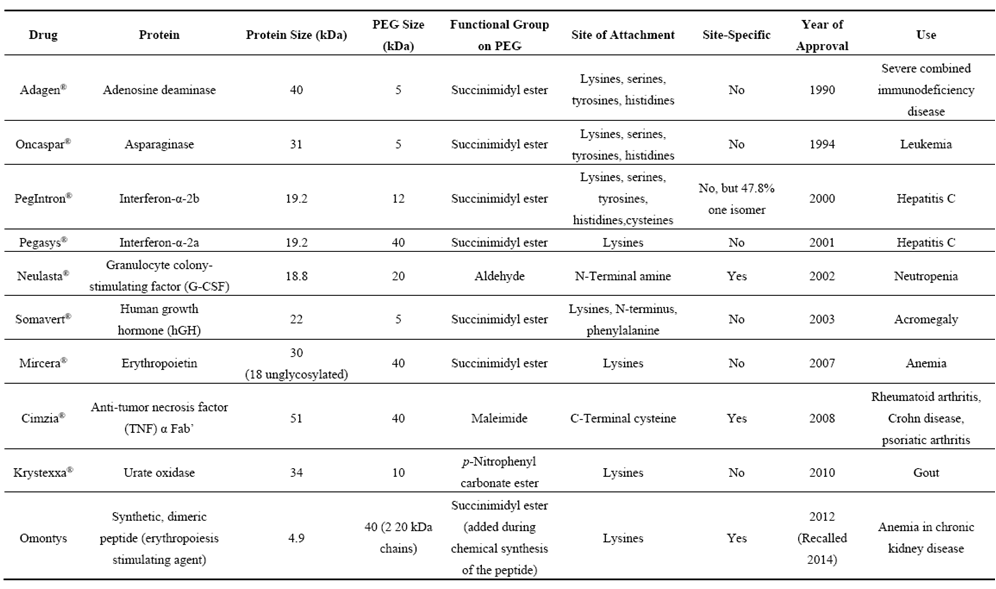 FDA Approved PEGylated Protein Drugs
Reference:
1.Y. Wei, Z.W. Zhang, et al. Chin j Biotech, 2018, 34(3): 360-368
2.K.J. Dozier, D.M. Distefano Int. J. Mol. Sci. 2015, 16(10), 25831-25864(扉页图片)
3.F.M. Veronese, G. Pasut. Drug Discov.Today, 2005, 10(21): 1451–1458
4.W.X. Wu, Y. Zhang, et al. Lett Biotechnol, 2006, 17(6): 929–934.
Seebio PEGylation Product List
| | | | | | |
| --- | --- | --- | --- | --- | --- |
| Product NO. | CAS | Product Name | Size 1 | Size 2 | Purity |
| AAU0205A | 876345-13-0 | Boc-NH-PEG4-CH2COOH | 250mg | 500mg | 97% |
| AAU0206A | 951671-87-7 | DNP-PEG3-azide | 100mg | 200mg | 98% |
| AAU0207A | 112-35-6 | m-PEG3-OH | 100g | 200g | 97% |
| AAU0208A | 756525-95-8 | NH2-PEG2-C2-Boc | 1g | 2g | 95% |
| AAU0209A | 581065-95-4 | Amino-PEG4-Boc | 1g | 2g | 97% |
| AAU0210A | 1393330-38-5 | Bromo-PEG4-acid | 1g | 2g | 97% |
| AAU0211A | 139115-90-5 | Azido-PEG2-alcohol | 1g | 2g | 97% |
| AAU0212A | 86520-52-7 | Azido-PEG3-alcohol | 5g | 10g | 98% |
| AAU0213A | 305372-39-8 | Biotin-PEG2-Mal | 100mg | 200mg | 98% |
| AAU0214A | 1453117-42-4 | Tos-PEG4-acid | 1g | 2g | 97% |
| AAU0215A | 86259-87-2 | BnO-PEG4-OH | 25g | 50g | 97% |
| AAU0216A | 1312309-63-9 | Azido-PEG2-C2-acid | 1g | 2g | 97% |
| AAU0217A | 1446282-18-3 | Amino-PEG5-Boc | 2g | 4g | 98% |
| AAU0218A | 252881-74-6 | NH2-PEG3-C2-Boc | 2g | 4g | 97% |
| AAU0219A | 1393330-36-3 | Bromo-PEG1-C2-Boc | 1g | 2g | 97% |
| AAU0220A | 928292-69-7 | Amino-PEG10-amine | 1g | 2g | 97% |
| AAU0221A | 890091-43-7 | Boc-amido-PEG9-amine | 1g | 2g | 97% |
| AAU0222A | 1859379-85-3 | Propargyl-PEG2-acid | 5g | 10g | 98% |
| AAU0223A | 906099-89-6 | Biotin-PEG6-alcohol | 1g | 2g | 97% |
| AAU0224A | 1800414-71-4 | Azido-PEG11-amine | 1g | 2g | 97% |
| AAU0225A | 31127-85-2 | Bis-PEG4-acid | 1g | 2g | 98% |
| AAU0226A | 518044-37-6 | Mal-PEG6-Boc | 250mg | 500mg | 97% |
| AAU0227A | 437655-95-3 | Fmoc-NH-PEG4-CH2COOH | 5g | 10g | 98% |
| AAU0228A | 1122484-77-8 | NH2-PEG2-C1-Boc | 1g | 2g | 97% |
| AAU0229A | 144942-89-2 | Amino-PEG1-C2-acid | 5g | 10g | 98% |
| AAU0230A | 127828-22-2 | Amino-PEG2-NH-Boc | 1g | 2g | 98% |
| AAU0231A | 166388-57-4 | Azido-PEG2-C2-amine | 250mg | 500mg | 97% |
| AAU0232A | 149299-82-1 | Hydroxy-PEG2-CH2-Boc | 1g | 2g | 97% |
| AAU0233A | 1233234-77-9 | Boc-NH-PEG11-NH2 | 100mg | 200mg | 97% |
| AAU0234A | 208827-90-1 | Propargyl-PEG3-alcohol | 5g | 10g | 97% |
| AAU0235A | 287174-32-7 | Hydroxy-PEG1-CH2-Boc | 1g | 2g | 97% |
| AAU0236A | 756525-93-6 | Mal-amido-PEG8-NHS ester | 250mg | 500mg | 98% |
| AAU0237A | 1008402-79-6 | Bis-PEG9-NHS ester | 25mg | 50mg | 98% |
| AAU0238A | 756526-04-2 | NH2-PEG9-acid | 3g | 6g | 98% |
| AAU0239A | 1191079-83-0 | Amino-PEG9-acid | 1g | 2g | 97% |
| AAU0240A | 872679-70-4 | Fmoc-NH-PEG2-CH2CH2COOH | 10g | 20g | 98% |
| AAU0241A | 882847-13-4 | Boc-NH-PEG6-CH2CH2COOH | 100mg | 200mg | 97% |
| AAU0242A | 1334169-93-5 | Boc-NH-PEG8-CH2CH2COOH | 100mg | 200mg | 97% |
| AAU0243A | 756525-91-4 | Boc-NH-PEG4-CH2CH2COOH | 100mg | 200mg | 97% |
| AAU0244A | 1347750-78-0 | Boc-NH-PEG5-CH2CH2COOH | 100mg | 200mg | 97% |
| AAU0245A | 1312309-64-0 | N3-PEG2-C2-NHS ester | 100mg | 200mg | 97% |
| AAU0246A | 439114-13-3 | Bis-PEG5-acid | 1g | 2g | 97% |
| AAU0247A | 875770-34-6 | Biotin-PEG3-azide | 1g | 2g | 97% |
| AAU0248A | 31576-51-9 | m-PEG2-Amine | 1g | 2g | 98% |
| AAU0249A | 1383814-00-3 | Amino-PEG12-Boc | 1g | 2g | 98% |
| AAU0250A | 929-75-9 | Amino-PEG3-C2-Amine | 1g | 2g | 95% |
| AAU0251A | 142929-49-5 | Boc-NH-PEG1-CH2COOH | 1g | 2g | 97% |
| AAU0252A | 937188-59-5 | Hydroxy-PEG4-acid | 100mg | 200mg | 97% |
| AAU0253A | 663171-32-2 | Biotin-PEG4-amine | 250mg | 500mg | 98% |
| AAU0254A | 169751-72-8 | Hydroxy-PEG4-CH2-Boc | 1g | 2g | 97% |
| AAU0255A | 2100306-71-4 | Bromo-PEG3-CH2-Boc | 1g | 2g | 98% |
| AAU0256A | 459426-22-3 | Biotin-PEG4-NHS ester | 250mg | 500mg | 97% |
| AAU0257A | 2055042-66-3 | Hydroxy-PEG9-Boc | 250mg | 500mg | 98% |
| AAU0258A | 108466-89-3 | Boc-NH-PEG2-CH2COOH | 1g | 2g | 97% |
| AAU0259A | 215181-61-6 | m-PEG2-azide | 5g | 10g | 97% |
| AAU0260A | 86770-67-4 | Azido-PEG4-alcohol | 1g | 2g | 97% |
| AAU0261A | 1895922-74-3 | Boc-NH-PEG2-propargyl | 250mg | 500mg | 97% |
| AAU0262A | 87450-10-0 | Propargyl-PEG4-alcohol | 100mg | 200mg | 95% |
| AAU0263A | 9004-74-4 | m-PEG-OH (MW 2000) | 25g | 50g | 97% |
| AAU0264A | 57641-66-4 | Bromo-PEG2-alcohol | 5G | 10G | 97% |
| AAU0265A | 54149-17-6 | m-PEG2-Br | 5g | 10g | 97% |
| AAU0266A | 27425-92-9 | m-PEG10-alcohol | 1g | 2g | 97% |
| AAU0267A | 2101563-45-3 | Fmoc-NH-PEG10-acid | 1g | 2g | 97% |
| AAU0268A | 1257063-35-6 | Azido-PEG4-C2-acid | 250mg | 500mg | 97% |
| AAU0269A | 462100-06-7 | Boc-NH-PEG3-CH2COOH | 1g | 2g | 97% |
| AAU0270A | 869310-84-9 | Propargyl-PEG2-NHBoc | 250mg | 500mg | 97% |
| AAU0271A | 858126-78-0 | DNP-PEG4-NHS ester | 500mg | 1g | 97% |
| AAU0272A | 518044-31-0 | Hydroxy-PEG3-CH2-Boc | 1g | 2g | 97% |
| AAU0273A | 297162-47-1 | Hydroxy-PEG6-CH2-Boc | 1g | 2g | 97% |
| AAU0274A | 955094-26-5 | Mal-amido-PEG2-NHS ester | 250mg | 500mg | 97% |
| AAU0275A | 1404111-67-6 | N-Boc-PEG5-alcohol | 1g | 2g | 97% |
| AAU0276A | 186020-66-6 | Hydroxy-PEG3-(CH2)2-Boc | 10g | 20g | 97% |
| AAU0277A | 791028-27-8 | Amino-PEG2-C2-acid | 20g | 40g | 97% |
| AAU0278A | 165963-71-3 | N-Boc-PEG3-bromide | 1g | 2g | 97% |
| AAU0279A | 1334177-79-5 | Mal-amido-PEG6-acid | 1g | 2g | 97% |
| AAU0280A | 2241669-16-7 | NH2-PEG5-C6-Cl (hydrochloride) | 1g | 2g | 97% |
| AAU0281A | 557756-85-1 | Fmoc-NH-PEG4-CH2CH2COOH | 5g | 10g | 98% |
| AAU0282A | 474082-35-4 | Amino-PEG9-amine | 1g | 2g | 98% |
| AAU0283A | 119189-70-7 | Bis-PEG6-acid | 250mg | 500mg | 97% |
| AAU0284A | 2388521-20-6 | Hydroxy-PEG12-Boc | 250mg | 500mg | 98% |
| AAU0285A | 361189-64-2 | Hydroxy-PEG6-Boc | 250mg | 500mg | 97% |
| AAU0286A | 164332-88-1 | N-Boc-PEG2-bromide | 1g | 2g | 97% |
| AAU0287A | 929-59-9 | Bis-NH2-PEG2 | 25g | 50g | 95% |
| AAU0288A | 1818294-42-6 | Amino-PEG10-Boc | 100mg | 200mg | 97% |
| AAU0289A | 1334177-80-8 | Cbz-NH-PEG6-C2-acid | 250mg | 500mg | 97% |
| AAU0290A | 957486-82-7 | Azido-PEG6-amine | 250mg | 500mg | 97% |
| AAU0291A | 1334177-87-5 | Cbz-NH-PEG8-C2-acid | 100mg | 200mg | 95% |
| AAU0292A | 361189-66-4 | Azido-PEG6-acid | 500mg | 1g | 98% |
| AAU0293A | 1670249-37-2 | Azido-PEG9-acid | 500mg | 1g | 98% |
| AAU0294A | 39160-70-8 | Amino-PEG6-alcohol | 250mg | 500mg | 97% |
| AAU0295A | 2093153-98-9 | Propargyl-PEG9-amine | 100mg | 200mg | 97% |
| AAU0296A | 882518-90-3 | Azido-PEG2-CH2COOH | 250mg | 500mg | 97% |
| AAU0297A | 756526-00-8 | Cbz-NH-PEG4-C2-acid | 250mg | 500mg | 97% |
| AAU0298A | 1245823-51-1 | Propargyl-PEG5-acid | 1g | 2g | 98% |
| AAU0299A | 1425973-14-3 | NH2-PEG7 | 500mg | 1g | 98% |
| AAU0300A | 1347760-82-0 | Propargyl-PEG3-acid | 250mg | 500mg | 97% |
| AAU0301A | 1951438-84-8 | Propargyl-PEG6-acid | 250mg | 500mg | 97% |
| AAU0302A | 932741-19-0 | Propargyl-PEG3-amine | 1g | 2g | 97% |
| AAU0303A | 34188-11-9 | NH2-PEG5-OH | 250mg | 500mg | 98% |
| AAU0304A | 581065-94-3 | Tos-PEG5-Boc | 1g | 2g | 97% |
| AAU0305A | 86770-68-5 | Azido-PEG5-alcohol | 250mg | 500mg | 97% |
| AAU0306A | 880129-82-8 | Azido-PEG6-CH2COOH | 500mg | 1g | 98% |
| AAU0307A | 1214319-92-2 | Azido-PEG8-acid | 100mg | 200mg | 98% |
| AAU0308A | 217180-81-9 | Azido-PEG5-CH2CO2H | 250mg | 500mg | 98% |
| AAU0309A | 857891-82-8 | Azido-PEG8-amine | 250mg | 500mg | 97% |
| AAU0310A | 5961-83-1 | Bis-PEG1-acid | 250mg | 500mg | 98% |
| AAU0311A | 19364-66-0 | Bis-PEG2-acid | 250mg | 500mg | 97% |
| AAU0312A | 2411681-88-2 | Thalidomide-O-PEG4-NHS ester | 250mg | 500mg | 97% |
| AAU0313A | 82209-36-7 | Amino-PEG8-amine | 100mg | 200mg | 98% |
| AAU0314A | 1263045-16-4 | Mal-amido-PEG4-acid | 500mg | 1g | 97% |
| AAU0315A | 756525-99-2 | Mal-amido-PEG4-NHS ester | 100mg | 200mg | 98% |
| AAU0316A | 139338-72-0 | Fmoc-amino-PEG3-CH2COOH | 2g | 4g | 97% |
| AAU0317A | 252881-76-8 | Biotin-PEG3-acid | 1g | 2g | 95% |
| AAU0318A | 1381861-91-1 | Bromo-PEG2-C2-Boc | 1g | 2g | 97% |
| AAU0319A | 1292268-13-3 | N-Boc-PEG7-alcohol | 5g | 10g | 97% |
| AAU0320A | 1334286-77-9 | Hydroxy-PEG2-acid | 250mg | 500mg | 97% |
| AAU0321A | 1036204-60-0 | Propargyl-PEG5-OH | 250mg | 500mg | 95% |
| AAU0322A | 2250216-93-2 | Boc-NH-PEG3-NHS ester | 1g | 2g | 97% |
| AAU0323A | 1314378-14-7 | Fmoc-PEG4-NHS ester | 1g | 2g | 98% |
| AAU0324A | 1431618-70-0 | Biotin-PEG3-Mal | 100mg | 200mg | 97% |
| AAU0325A | 912849-73-1 | Azido-PEG10-amine | 1g | 2g | 97% |
| AAU0326A | 157759-50-7 | Bromo-PEG1-CH2-Boc | 1g | 2g | 97% |
| AAU0327A | 134179-38-7 | Amino-PEG3-C2-Azido | 100mg | 200mg | 97% |
| AAU0328A | 778596-26-2 | Hydroxy-PEG10-Boc | 1g | 2g | 97% |
| AAU0329A | 57641-67-5 | Br-PEG3-OH | 250mg | 500mg | 98% |
| AAU0330A | 189808-70-6 | NH2-PEG3-C1-Boc | 1g | 2g | 98% |
| AAU0331A | 7218-43-1 | Propargyl-PEG2-OH | 250mg | 500mg | 95% |
| AAU0332A | 1056024-94-2 | N3-PEG3-CH2CH2COOH | 5g | 10g | 98% |
| AAU0333A | 359860-27-8 | Amine-PEG3-Biotin | 100mg | 200mg | 97% |
| AAU0334A | 1537892-36-6 | Mal-PEG3-NHS ester | 500mg | 1g | 98% |
| AAU0335A | 1260092-44-1 | Boc-NH-PEG1-CH2CH2COOH | 5g | 10g | 97% |
| AAU0336A | 85141-94-2 | Br-PEG4-OH | 1g | 2g | 97% |
| AAU0337A | 352439-37-3 | NH2-PEG8-OH | 1g | 2g | 97% |
| AAU0338A | 141282-35-1 | Amino-PEG5-CH2COOH | 0.1g | 0.2g | 98% |
| AAU0339A | 635287-26-2 | Fmoc-NH-PEG5-CH2COOH | 0.25g | 0.5g | 97% |
| AAU0340A | 867062-95-1 | Fmoc-NH-PEG3-CH2CH2COOH | 100mg | 200mg | 98% |
| AAU0341A | 1052207-59-6 | Boc-NH-PEG8-CH2CH2NH2 | 1g | 2g | 98% |
| AAU0342A | 31255-26-2 | Bromo-PEG3-bromide | 1g | 2g | 98% |
| AAU0343A | 24345-74-2 | Azido-PEG1-azide | 100mg | 200mg | 98% |
| AAU0344A | 1325208-25-0 | Mal-PEG4-NHS ester | 250mg | 500mg | 97% |
| AAU0345A | 516493-93-9 | Azido-PEG5-amine | 1g | 2g | 97% |
| AAU0346A | 1374666-32-6 | Mal-PEG2-acid | 100mg | 200mg | 97% |
| AAU0347A | 1013921-36-2 | Propargyl-PEG4-amine | 250mg | 500mg | 97% |
| AAU0348A | 1347750-75-7 | Boc-N-amido-PEG3-acid | 1g | 2g | 97% |
| AAU0349A | 72236-26-1 | Amino-PEG5-amine | 0.25g | 0.5g | 97% |
| AAU0350A | 332941-25-0 | Amino-PEG7-amine | 0.25g | 0.5g | 98% |
| AAU0351A | 1517-05-1 | Azido-PEG1 | 5g | 10g | 97% |
| AAU0352A | 945633-30-7 | Biotin-PEG2-CH2CH2N3 | 50mg | 100mg | 97% |
| AAU0353A | 65869-63-8 | Bis-PEG2-NHS ester | 100mg | 200mg | 97% |
| AAU0354A | 206265-98-7 | Boc-NH-PEG7-NH2 | 100mg | 200mg | 97% |
| AAU0355A | 721431-18-1 | Biotin-PEG4-acid | 50mg | 100mg | 97% |
| AAU0356A | 1027371-75-0 | m-PEG1-NHS ester | 1g | 2g | 97% |
| AAU0357A | 110429-45-3 | m-PEG4-Br | 5g | 10g | 97% |
| AAU0358A | 782475-37-0 | Br-PEG3-C2-Boc | 1g | 2g | 97% |
| AAU0359A | 784105-33-5 | Amino-PEG3-C2-acid | 1g | 2g | 97% |
| AAU0360A | 530151-56-5 | Bromo-PEG2-C2-azide | 1g | 2g | 97% |
| AAU0361A | 905954-28-1 | NH2-PEG6-CH2CH2COOH | 1g | 2g | 97% |
| AAU0362A | 195071-49-9 | Amino-PEG4-CH2COOH | 2g | 4g | 97% |
| AAU0363A | 2365309-92-6 | Cl-PEG6-acid | 100mg | 200mg | 98% |
| AAU0364A | 1137109-21-7 | Mal-amido-PEG6-NHS ester | 100g | 200g | 97% |
| AAU0365A | 936917-36-1 | Iodo-PEG4-N3 | 500mg | 1g | 97% |
| AAU0366A | 85030-56-4 | m-PEG4-Amine | 250mg | 500mg | 97% |
| AAU0367A | 869718-81-0 | m-PEG8-Amine | 1g | 2g | 97% |
| AAU0368A | 1702356-19-1 | ENdo-BCN-PEG4-NHS ester | 25mg | 50mg | 97% |
| AAU0369A | 1058691-77-2 | m-PEG6-CH2CH2CHO | 100mg | 200mg | 97% |
Seebio supplies G-Kg grade protein drug intermediates
Protein Drug Intermediates
Seebio Code
CAS No.
Name
Packsize
growth hormone side chain
AAU0178A
N/A
TZ-Ste-SO2-nBu-AEEA-Glu(OH)-Glu(OH)-AEEA-Lys(OH)-C
1g, 5g; 1kg
AAU0179A
N/A
HO-Ste-CYH-Glu(OH)-Glu(OH)-AEEEEA-Mal
1g, 5g; 1kg
Tirzepatide Side Chain
AAU0180A
1188328-37-1
OtBu-Ara-Glu(AEEA-AEEA-OH)-OtBu
1g, 5g; 1kg
Semaglutide Side Chain
AAU0181A
1169630-40-3
(S)-22-(carboxy)-1-((2,5-dioxocyclopentyl)oxy)-1,10,19,24-tetraoxo-3,6,12,15-tetraxa Oxa-9,18,23-azatetradecane-41-acid
1g, 5g; 1kg
AAU0182A
1118767-16-0
tBuO-Ste-Glu(AEEA-AEEA-OH)-OtBu
1g, 5g; 1kg
AAU0183A
1118767-15-9
tBuO-Ste-Glu(AEEA-AEEA-OSu)-OtBu
1g, 5g; 1kg
AAU0184A
N/A
tBuO-Ste-Glu(AEEA-AEEA-ONa)-OtBu
1g, 5g; 1kg
AAU0185A
4871-70-5
Octadecanedioic acid
1g, 5g; 1kg
AAU0186A
843666-40-0
Octadecanedioic acid Mono-tert-butyl ester
1g, 5g; 1kg
AAU0187A
134978-97-5
AEEA
1g, 5g; 1kg
AAU0188A
1143516-05-5
AEEA-AEEA
1g, 5g; 1kg
AAU0189A
166108-71-0
Fmoc-AEEA
1g, 5g; 1kg
AAU0190A
N/A
Fmoc-PEG3-acetic acid
1g, 5g; 1kg
AAU0191A
2061897-68-3
Boc-His(Trt)-Aib-OH
1g, 5g; 1kg
AAU0192A
N/A
Boc-His(Trt)-Aib-Glu(OtBu)-Gly-OH
1g, 5g; 1kg
AAU0193A
1662688-20-1
Fmoc-Lys(tBuO-Ste-Glu(AEEA-AEEA)-OtBu)-OH
1g, 5g; 1kg
AAU0194A
N/A
tBuO-Ste-Glu(AEEA-AEEA-Glu)-OtBu
1g, 5g; 1kg
Liraglutide Side Chain
AAU0195A
204521-63-1
Pal-Glu(OSu)-OtBu
1g, 5g; 1kg
AAU0196A
57078-98-5
D-Pal-Glu(OSu)-OtBu
1g, 5g; 1kg
AAU0197A
N/A
L-HO-Pal-Lys(OSu)-OH
1g, 5g; 1kg
AAU0198A
294855-91-7
L-Pal-Glu(OSu)-OH
1g, 5g; 1kg
AAU0199A
N/A
L-Pal-Glu(OH)-OtBu
1g, 5g; 1kg
AAU0200A
N/A
2L-HO-Pal-Glu(OSu)-OtBu
1g, 5g; 1kg
Insulin degludec Side Chain
AAU0201A
N/A
L-HO-Pal-Glu(OSu)-OH
1g, 5g; 1kg
AAU0202A
N/A
L-tBuO-Pal-Glu(OSu)-OtBu
1g, 5g; 1kg
AAU0203A
N/A
L-tBuO-Pal-Glu(OSu)-OH
1g, 5g; 1kg
Insulin detemir Side Chain
AAU0204A
69888-86-4
N-succinimidyl myristic acid
1g, 5g; 1kg
Related Products